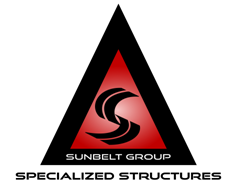 We Are Specialized Structures.
Specialized Structures Inc. was incorporated in 1997 to provide a competitive high quality
modular building. Located on 15 acres in Willacoochee, Georgia, our 70,000 plus square foot
facility gives us the flexibility to work on any type of custom project. Our services include
projects for assembly, administration, institutional, military, and medical. Projects can range
from a single floor building to a multi floor complex either single or two stories high. Our
sales staff, drafting and engineering department, and production and quality control
management has the experience and knowledge to meet the expectation of any size
project.
See why customers love Specialized Structures.
"The team at Specialized Structures, Inc. is excellent. They are always willing to help with whatever need may be, and we consider them as a great partner."
"Specialized Structure's buildings are hands down a better product than those of their competitors. They go together very nicely and look great. Their team does a wonderful job and we are always happy to work with them."
Architectural & Engineering Services 
Our architects and engineers have worked closely with our dealer partners to produce thousands of designs for a variety of wholesale commercial modular buildings. They are experts in building to code requirements on both a State and National level and are able to provide custom modular building solutions, regardless of the scope of the project.
Production & Quality Control Services
At the heart of our operations are our production and quality control staff who work together closely to monitor specifications, materials, and workmanship.
Warranty Services
Our custom modular buildings are built with high‑quality materials, excellent workmanship, and always within customer specifications. Should an issue arise, we will address it immediately.
Please fill out this form, and we will be in touch with you as soon as possible.